With the onset of the COVID-19 pandemic, what was already a difficult pathway in crafting effective learning environments for students only became more exacerbated. On top of the existing challenges, schools suddenly were forced to:
set up classrooms that allow for social distancing between students
accommodate smaller class sizes
implement hybrid student schedules (in-class and virtual)
infuse technology into nearly every aspect of teaching and learning

In the midst of all of this, school leaders have proven themselves to be incredibly resourceful, resilient, and creative as they have sought to equip teachers with the tools and environment they need to create continuous learning experiences for students.
As we continue through this challenging school year and beyond, we're facing questions that will likely impact learning in the future:
How will students adapt to the fluidity of learning between in-person and home remote learning?
Can students expect to continue to receive the personalized learning models being used in virtual settings?
How will the flexibility and choice of programs continue as students return to in-person learning?
Related Article: How COVID-19 Forced Us to Re-Think Learning Environments for the Better
Lessons Learned from Remote Learning & How We Can Move Forward
Every day more and more research is coming available on the academic and social-emotional impact of remote learning. Despite our best efforts, research suggests that remote learning has been a disaster for most students, especially students who are considered at-risk. Due to isolation and quarantine efforts, students are experiencing more depression and anxiety. A recent article, "Covid-19's Impact on Students' Academic and Mental Well-Being," (2020, Terada) outlines that schools will face widening academic gaps between different populations that will take years to recover. We're left wondering, "Is there anything positive about remote learning?"
According to pedagogical scholar Nora Fleming, learning from home allows students to improve their sleep, learn at their own pace, and avoid negative social interactions, such as bullying.
Natalie Wexler (2020) writes from the student and teacher perspectives on how remote learning has increased student engagement through on-line, project-based learning and collaboration.
If you're like me, you're wondering:
Should we embrace these positive effects and prepare for a shift in how learning environments function?
Can we plan for today while still preparing for tomorrow? Can we equip students with the adaptability to learn from anywhere at any time and use remote platforms to engage in learning?
As most educators can agree, we need to do what's best for students. We need to support students' cognitive, emotional, and physical development. With that in mind, let's talk about the key to designing an effective learning environment that's relevant now, but will also ensure student success into the future.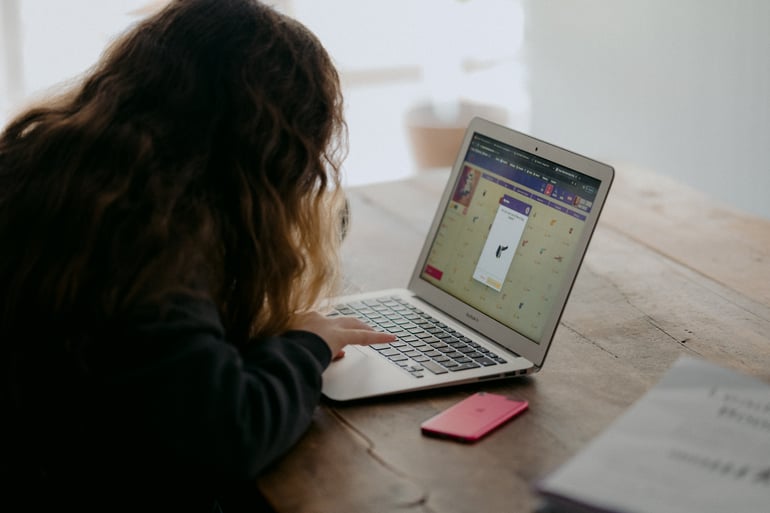 The Key to Designing Effective Learning Environments Now & In Into the Future
To successfully design learning environments that meet the needs of today's COVID-19 conditions while preparing for a future post-coronavirus world, we must embrace the idea that learning can and will occur anywhere, at any time, and that teachers and students will have a choice in how that happens.
Is this the opportunity we have been waiting for—to create inclusive, equitable, and supportive learning environments? Can these learning environments function more like a biological ecosystem where all things—living and nonliving—inhabit that space and interact with each other?
I believe the answer is yes! Let's dig deeper into this to discover how and why.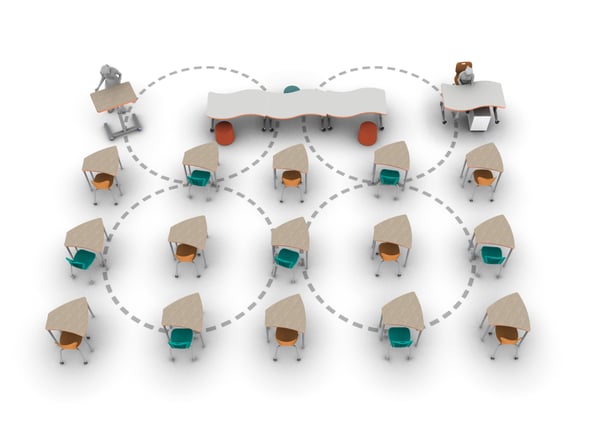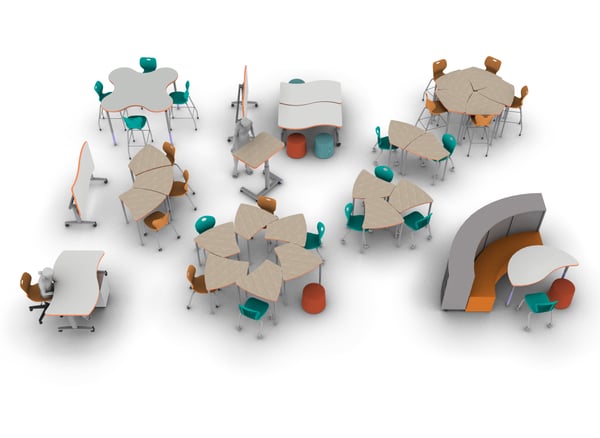 Related Article: "Classroom Furniture Ideas for Socially Distanced Classrooms"
How and Why Schools Should Focus on Building Student-Centered Ecosystems
To ensure we're helping students develop socially, emotionally, physically, and cognitively, we need to re-think learning environments as student-centered ecosystems. This approach to classroom layout ensures students can confidently say the following:
Using the links above, discover more about each of these three spaces, why they're important, and learn simple steps to creating your own classroom layouts using the student-centered ecosystem approach.
As educators, parents, and furniture experts, we have an obligation (and a privilege) to use this shift in education to better students' learning experience. To do this, we must be open to change, observe trends and patterns, learn from research and best practices, and be forward thinkers.
The Support You Need to Create Student-Centered Learning Environments
At Artcobell, we're passionate about equipping you with the tools you need to create student-centered ecosystems that help your students thrive now and in the future. From layout tips and design ideas to purchasing chairs, desks, and tables, we're committed to helping you build student-learning environments that are right for your students.
When you design your school with flexible classroom furniture, it gives students the choices they need. Your classroom furniture and layout have the power to:
Related Article: Use Diverse Classroom Seating to Promote Student Learning
Need Help Designing Student-Centered Learning Environments?
If you're feeling overwhelmed trying to design your school's learning environments in this challenging time, we can help! At Artcobell, we're passionate about helping educators create safe and secure learning environments that promote student success. We have lots of helpful resources to get you started! If you're still feeling stuck, schedule a call with a furniture expert and we'll walk you through the process.
‌---
Fleming, Nora. "Why Are Some Kids Thriving During Remote Learning?" Edutopia, 24 Apr. 2020,www.edutopia.org/article/why-are-some-kids-thriving-during-remote-learning.
Terada, Youki. "Covid-19's Impact on Students' Academic and Mental Well-Being." Edutopia, 23 June 2020, www.edutopia.org/article/covid-19s-impact-students-academic-and-mental-well-being
Wexler, Natalie. "For Some, Remote Learning Has Surprising Benefits." Forbes, 8 May 2020,www.forbes.com/sites/nataliewexler/2020/05/08/for-some-remote-learning-has-surprising-benefits/?sh=417b84e43695 Accessed 13 Nov. 2020.