LessonS learned WHILE TRANSFORMING LEARNING SPACES: Have a
Clear School Vision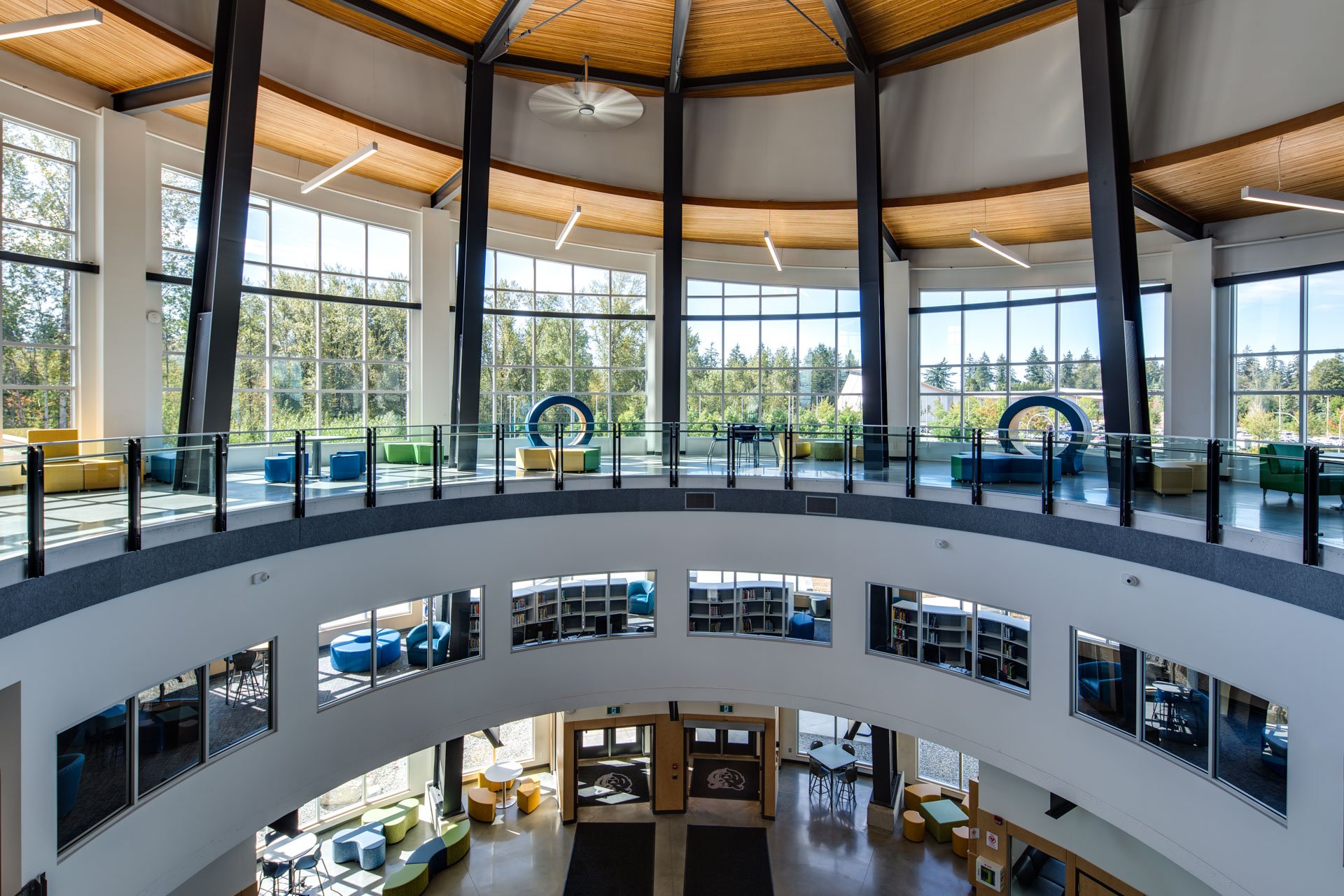 We understood in our planning stages that the choice of content, the skills and attitudes that we wanted to promote, along with the relationship between teachers and students, and built environment learning environment, was going to influence and drive the culture we wanted to create for this school. Darren Bedard, principal, Grandview Heights Secondard School, Surrey, BC
I was honored to work with a phenomenal group of educators in Surrey, British Columbia in 2021. After a year of closure due to COVID-19, they had just opened a new school. Walking into open learning spaces with lots of windows and glass walls, the teachers at Grandview Heights immediately knew teaching and learning would be different in this school.
Due to their inability to onboard all teachers to the newly designed spaces because of COVID, the school leadership took swift action by reaching out to me for assistance. In September 2021, just three weeks after the school opened its doors to teachers and students, I was invited to conduct professional learning workshops for the staff.
The main focus of the workshops was to empower teachers in using innovative and flexible learning environments. The administration wanted to equip teachers with the tools and strategies to maximize collaboration and creativity in their classrooms, establish an inclusive and safe learning space, and foster a schoolwide culture that embraces shared use of space. By addressing these crucial elements, the teachers would be able to create an environment that fosters holistic growth and academic achievement for every student.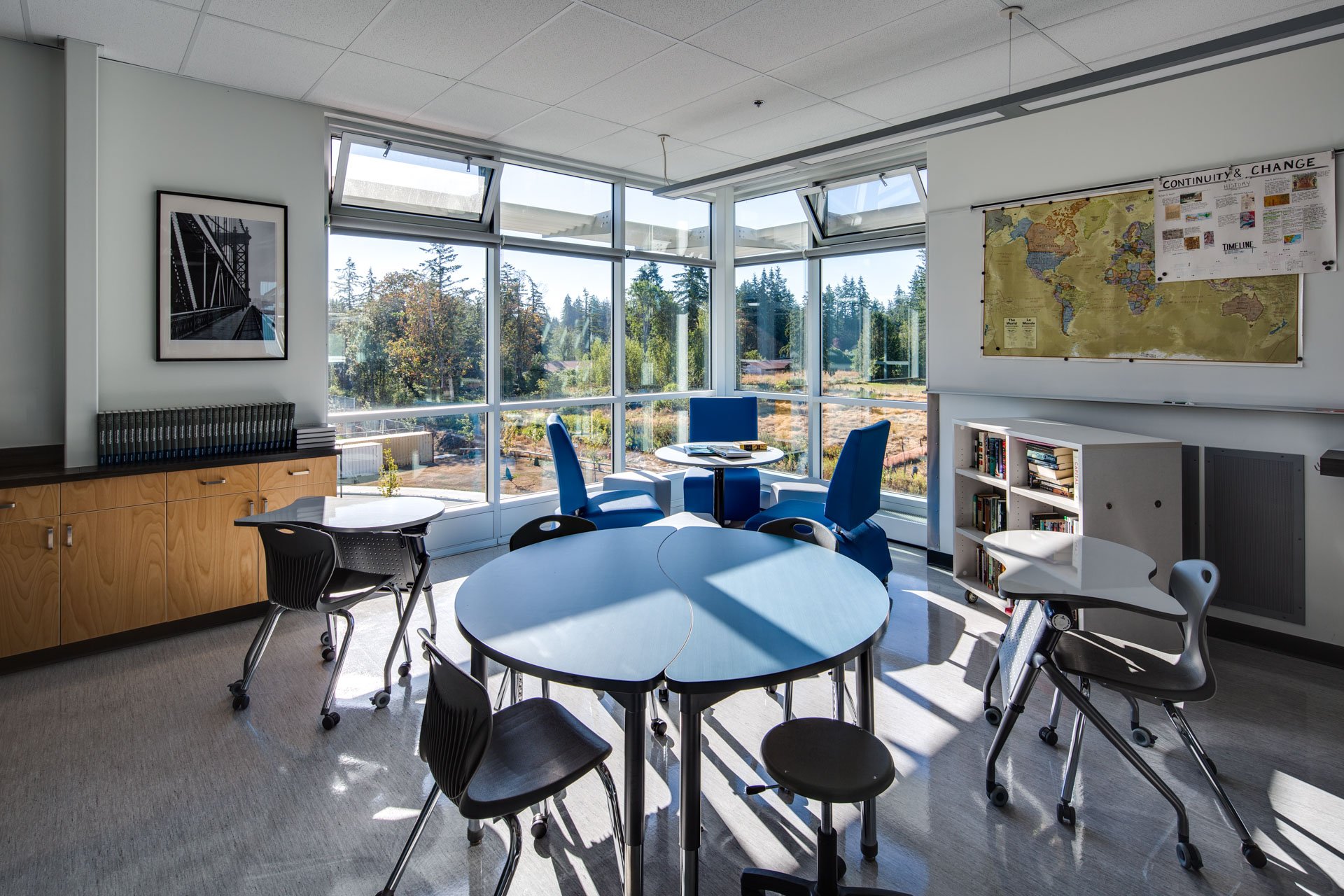 Helping the teaching staff make the connections between the desired teaching, learning, and curriculum is critical in helping them embrace the flexibility of the learning environment and enhance the experience for the students in their classroom.  Here's what they said after one of the workshops:
"...We're hoping to try and use the room in different ways, so not just keep it the way we set it up the first day of school and really look at how we can use the furniture collaboratively. "

"One thing we really like to do is take down walls and figure out how we can as large classes come together and plan... Combine classes like entrepreneurship and robotics."

"In these exciting dynamic collaborative spaces, with all the different opportunities to be flexible there are some students that don't necessarily thrive in these environments. We want to make sure that we're nurturing these things, but that there are other people that don't necessarily fit in the collaborative mode that we have to be conscious and make room for that as well."

NEW spaces = New ways to teach
The professional learning had to address how teachers could redefine the traditional teaching roles and practices to adapt their instructional approaches to flexible learning spaces and furniture. By understanding the alignment between the new learning spaces and the overall vision of the school, all staff want to work collaboratively to implement and sustain change for their school.
"As Grizzlies we come to Grandview Heights seeking safe and respectful connections to our land, community, and one another. We value KINDNESS, CURIOSITY, RESILIENCE, and PERSONAL GROWTH." Grandview Heights Mission Statement
To learn more about the Grandview Heights project, listen to the podcast at I+S Design, featuring Patricia Cadigan and editor Robert Nieminen.
Follow along over the next few blogs as we visit with other schools who used teacher professional development to ensure the success of their new spaces, and ultimately of their new vision. Up next: hear from principal Shaylyn Ekins about how they launched a completely new concept with Golden Spike Elementary in Northern Utah.