A new school year is upon us. As students make their way back into the classroom, after a year of highs and lows, you want them to feel safe, inspired, and that they belong. Whether that means rearranging your furniture to create a zen den or organizing your materials to create a more harmonious space, it can be overwhelming. Where do you begin?
As you enter your learning environment, ask yourself, "How does this space make me feel?" Inspired? Overwhelmed? Overstimulated? If your classroom looks like it belongs on an episode of Hoarders, you might consider decluttering to decrease stress and boost mood.
Tips for Organizing Your Classroom and Materials
#1 – Tackle clutter by category, not by classroom location

Books – Pull every single book from your classroom and go through them one by one. Decide whether to keep, donate, or discard.
Papers – Do you need to keep receipts, letters/memos, multiple copies, old worksheets? Consider storing them digitally if you think you need them. If not, throw them away or recycle them.
Supplies – Throw out the dried up markers, glue sticks, and stacks of scrap paper.
Electronics – Dispose of outdated technology. Say sayonara to those stacks of CDs in the clear cases; Yeah, the ones that were never labeled.
Sentimental Items – Toss the #1 teacher picture frame and wooden apple cluttering your workstation. Only surround yourself with items that bring you joy and don't weigh you down.

#2 – Try school furniture hacks to further reduce clutter



Chairs with a Built-in BookRack
Add a caddy or tray to the alphabet four leg chair with a bookrack for individual supplies, technology, and personal items such as lunch boxes and water bottles. This solution allows students access to supplies without having to move around the room (hello, COVID-19).

Pro tip: The individual storage trays shown above fit in our maker space cabinets. These are a great multi-functional storage solution for TODAY and TOMORROW!
Classroom Desks with Backpack Hooks
Hang in there (pardon the pun)! Traditionally, backpack hooks are used, for well, backpacks, but they are multifunctional. Try these hacks!
Use them to hang headphones
Handheld markerboard
Display artwork
If your students are still eating in the classroom, use them to hold their lunch bags or water bottles
Buckets, pencil bags, or canvas totes to house individual classroom supplies such as markers, crayons, glue, and hand sanitizers
Masks

Mobile Storage Creates New Classroom Learning Spaces
Use mobile storage to create a zen den (like a nook or cooldown corner) where students who are feeling frustrated, angry, or overwhelmed can go to process their emotions. Consider adding pillows, blankets, visuals for breathing, and other fidget items such as bubble wrap, a glitter jar, or a slinky.



Use Individual Tray & Rail Systems
Students today are expected to socially distance and use their own supplies. But soon, students will once again be able to share supplies again. Plan today for a post-COVID world tomorrow by using maker space storage units to house the trays once they are able to be shared again.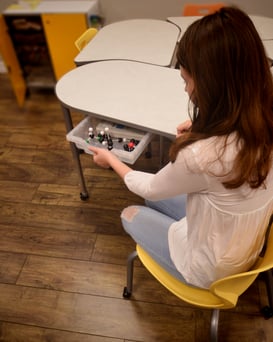 #3 –Strategically Place 1-2 Student Desks with Book Boxes to House Technology for the Class
Pro tip: Not every student desk needs an individual storage bin.
#4 – Set Classroom Learning Expectations
Spend 3-4 minutes at the end of each day to reset and prepare for the next day. Grant students' ownership of their space and encourage them to take pride in keeping it tidy.
#5 – Stay Mindful
Classroom decluttering and tidying is a marathon, not a sprint. Learn to change your mindset and ask yourself, "Do I need this item to teach effectively?"
Pro Tip: Lay out your classroom learning environment in a way where students can gaze outside. Giving students the ability to know what is going on outside is relaxing and gives them a sense of control. Research shows that biophilic enhancements of the classroom are strongly associated with reduced student stress and enhanced learning outcomes. (https://www.brikbase.org/content/impact-biophilic-learning-spaces-student-success)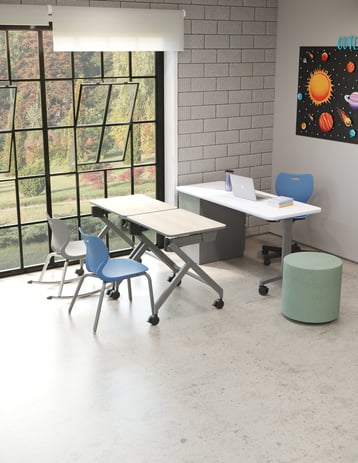 Trusted Classroom Furniture That Declutters the Classroom
If you don't have the classroom furniture you need to declutter your space, then Artcobell is here to help. We make durable and modern classroom seating, tables, and more and design them with best pedagogical practices in mind. If you're ready to transform your classroom, find one of our dealers near you, or talk to a furniture expert to learn more.