As educational leaders, you have a lot on your plates. You manage buildings, you oversee budgets, monitor and evaluate teacher and student performance, build consensus, establish culture, develop schedules, plan and participate in meetings, you are a community liaison, and the list goes on and on. With all of this preparing for "today," how do you have time to plan for "tomorrow?"
In this blog, we'll tackle this challenge head-on by providing you with practical and helpful advice for establishing the right learning environment that meets the needs of today, without neglecting the demands of the future. We'll also take a closer look at how and why learning spaces play a critical role in student success.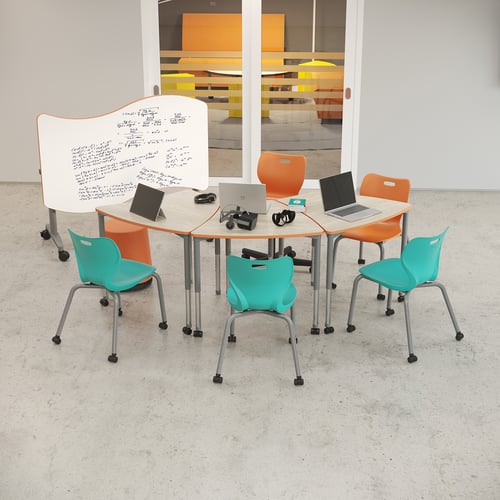 Ensure Student Success Today Without Neglecting the Needs of Tomorrow
Connecting the dots between teaching, learning and student success is critical, and makes up the majority of the work you do every day. For example:
You have data sets for how teachers teach.
You have benchmarks and assessments to measure the curriculum delivered.
You're constantly analyzing when students learn through schedules, homework, and attendance.
But have you ever thought about where the students are learning, and the impact learning environments have on student outcomes?
There is plenty of research and evidence to prove that transforming learning environments is a necessary step to successfully transform learning. In 2017, Hanover Research published a meta-analysis that pointed out how traditional in-line learning is outdated, and today's learning environments need to support collaboration, active learning, and technology.
Creating learning environments that help students feel safe, secure, and inspired will help unlock their creative potential to enhance ways for them to learn and to apply it to their real-world experience.
Related Article: How to Effectively Create Student-Centered Learning Environments
Critical Questions to Ask Yourself Before Transforming a Learning Space
So how does your team embrace this vision of utilizing educational spaces to transform the environment? How can you encourage your school to focus on transforming learning and, ultimately, connecting their community in transforming the ideology of student success?
When I consult with schools, I encourage the team to connect the dots between their vision of teaching, learning and the environment far before selecting specific school furniture.
I challenge them with these four questions:
What will be taught?
How will instruction be delivered?
When will learning occur?
Where will learning take place?

Before you and your team invest in school furniture, I challenge you to do the same. Ask yourself these four critical questions. Doing so will help your school leadership effectively define why you do what you do, and will help you reimagine the processes that needs to take place to ensure student success.
Rethinking Learning Environments for Greater Teacher & Student Success
Reimagining your space based on how each area of your school can be utilized is another critical step for creating a transformed learning environment. Let's take a closer look at the four key questions we identified above and discover how they help us connect the dots between teaching, learning and student success.
A Closer Look at Teaching, Learning, & Student Success
What will be taught?
Start with this question:

Does the curriculum support personalized and active learning

?

Think about: Moving away from teacher-delivered content to personalized curriculum, let students control their space. Allowing learners to pick their seat and work surface promotes ownership and curriculum buy-in.
Tip: Provide flexible seating options and standing and seated work surfaces. Consider using NXT MOV chairs on casters,

movement stools

, and

soft seating furniture.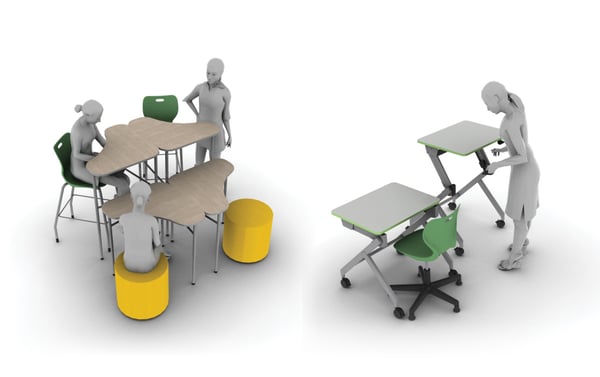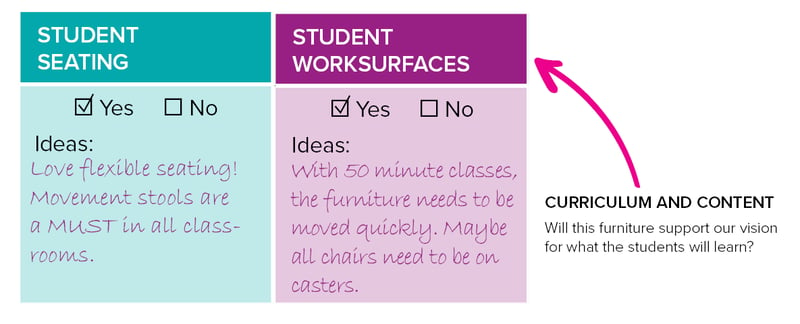 How will instruction be delivered?
Start with this question: Will your learning activities be built around project-based, collaboration, or individualized instruction?
Think about: It may be surprising, but you can incorporate all three instructional strategies using the same furniture. Check out the virtual classrooms to see how.
Tip: With flexible and mobile furniture you can rearrange a room quickly to accommodate your instructional needs.

When will learning occur?
Start with this question: How will the school day schedule impact the learning environment?
Think about: Keep in mind that block, traditional or flex schedules may require different types of furnishing.

Tip: For example, block scheduling might be where students are in a designated area for 90 minutes. In this case, you will be focused on comfort, movement and endless flexibility. Make sure you have

soft seating

,

standing desks

, and

configurable work surfaces available for your students to use.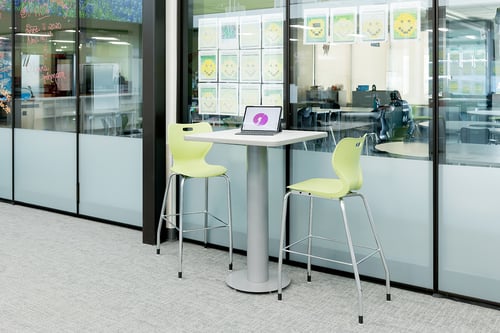 Where will learning take place?
Can you answer the question, "Where will learning occur?" On some campuses, it may be anywhere at any time especially with the addition of student devices.
Think about: How do you define "virtual," "hybrid" and "blended learning?" The infusion of technology into school curriculum is going to change the dynamics of the classroom setup.
Tip: Designing classrooms that promote learning at any time requires thoughtful planning. Creating

active learning zones

for students to gravitate towards will enhance their work productivity.
Related Article: Explore Classroom Design Strategies that Promote Student Engagement
Next Steps to Ensuring Student Success with the Right Learning Space
If you're interested in starting the conversation on how to transform your school's learning environment in order to transform learning, schedule an appointment with Artcobell's Director of Learning Environments today!
---
SOURCES: