In the spring of 2020, our world changed as the COVID-19 pandemic forced everyone to radically change how we live life. People were forced to work from home, reduce social activities, cancel entertainment, implement social distancing, minimize travel, close schools, and/or move activities to online platforms.
While it will take time before we know exactly when, what, or how things will return to what we define as "normal," the only thing that's certain is there will be change. As we navigate these times, we can't neglect our children, who rapidly experienced school closures, social distancing, and feelings of isolation.
All of these changes are proven to have a deep mental impact on them. As children are left missing ties to friends, teachers, school staff, coaches, and their everyday routines, it causes them to feel anxious, depressed, and have general angst.
Help Students Succeed with SEL Techniques
Nancy Sykes, a school counselor and licensed professional counselor, states that now more than ever it's critical to implement social and emotional learning into teaching practices as we move back into traditional, and in some cases, non-traditional classroom settings.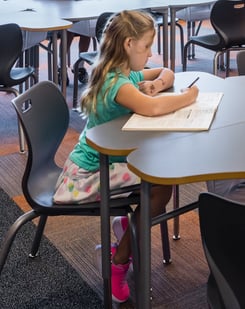 Despite COVID-19 conditions, the classroom environment must be an inviting space that fosters growth and learning amidst the chaos. People who create the classroom setup should be ever mindful that a room's setup and design can have a lasting effect on a student's physical, social, and psychological development. Now, more than ever, students need a safe and secure environment so they can better engage and connect with their peers and teachers.
The reality is, schools do not just teach traditional academic areas of study. In addition to reading, writing, math, science, and social studies, schools must proactively address students' social, emotional, and physical health.
From Maslow's hierarchy of needs, we know that learning happens only after other key areas are stable. Physiological needs, safety, love, belonging, and esteem need to be addressed before self-actualization or learning can take place. Additionally, when students are equipped to identify their feelings, make cognitive connections (concentration, engagement, attention), achieve a growth mindset, regulate emotions, and control their behavior, then the child can begin learning.
Use Your Classroom Setup to Promote SEL
In the midst of a global pandemic, one simple step you can take to promote the social emotional learning your school needs to help students feel safe and engaged is to re-think your classroom setup.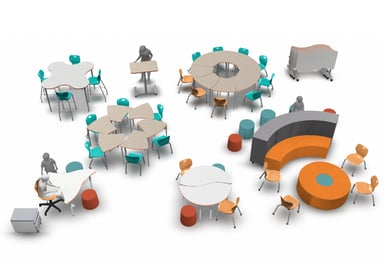 It may seem simple, but your classroom furniture can play a huge role in your students' feeling "normal" and secure.
Over the next few posts, we'll show you how to use different types of seating and classroom furniture to promote ownership and belonging. We'll also provide you with academic activities that can support your students' social emotional learning.
Related Article: Promote Emotional Processing with Effective Classroom Furniture
Learn More About SEL & How to Use Your Classroom Setup to Make a Difference
Visit out website to gain more insight on learning strategies and proven classroom setups.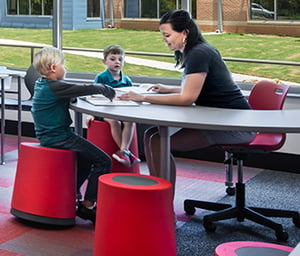 At Artcobell, we believe that student-centered learning needs adaptable furnishings. When you use the right classroom furniture, you can reconfigure it to accommodate the ideal teaching styles for your classroom setup and better respond to your students' needs.
Stay tuned for this series and gain access to other helpful content when you subscribe to the Artcobell blog below! We're passionate about educational best practices, which is why we'll send you the tips and knowledge you need right to your inbox!
Thanks to Nancy Sykes, MA, Licensed Professional Counselor for her contributions to this article. Sykes has 25+ years' experience working in education. Her education career began as a sign language interpreter for Deaf and hard-of-hearing high school students in Mesquite, Texas. She later taught special education in a discipline alternative education program with middle and high school students. Fifteen years ago she moved to Central Texas and taught in a Regional Day School Program for the Deaf. Sykes is currently working as an elementary school counselor. She also counsels children and adults part-time through her private practice.
Sources:
Cherry, Kendra. "The Five Levels of Maslow's Hierarchy of Needs." Verywell Mind, 20 Apr. 2017, www.verywellmind.com/what-is-maslows-hierarchy-of-needs-4136760.
Burton, Neel. "Our Hierarchy of Needs." Psychology Today, 2012, www.psychologytoday.com/us/blog/hide-and-seek/201205/our-hierarchy-needs.
Jones, Stephanie, et al. Navigating SEL from the Inside Out: Looking Inside & Across 25 Leading SEL Programs: A Practical Resource for Schools and OST Providers (Elementary School Focus). 2017.