Dry erase surfaces are no longer just for walls! You can now get student desks, tables, and storage cabinets with markerboards built right into the tops. We're obsessed!
Here's a little markerboard 101 for you: Technology has come a long way and markerboards are no exception. The dry erase surfaces that are showing up on both vertical and horizontal planes are made out of colorful, high-pressure laminate—making markerboards the perfect addition for your transformed learning environment, or classroom.
5 Reasons Markerboards are a Must-Have in Your School
Why do teachers and students love dry erase surfaces so much? For the same reasons we do!
Markerboards inspire creativity: A dry erase surface allows you to express your thoughts and ideas without restraint. Make a mistake? Easy—just erase it and try again!
Improved collaboration: Dry erase surfaces are crucial to effective collaboration. Markerboard surfaces allow groups of students to write, map, and share information more fluidly. Additionally, dry erase surfaces make it even easier for students to connect their individual work to a common learning goal. Furthermore, teachers love writable tops—like dry erase desks—because it gives them the ability to instantaneously check for their students' understanding of a learning objective. Students can "show what they know," and teachers can immediately reinforce or correct an answer using a markerboard.

Tip: Use markerboard surfaces on flip top tables. After students are done working, the table can be flipped upright to present their work to their classmates.
Great for those shy and introverted learners: Let's face it, being around 30 of your peers all day, every day can be tough! Markerboards and dry erase surfaces allow students to share their ideas and thoughts without the fear of judgment or putting themselves 'out there' in front of an audience.


Better learning experiences: Modern research proves that writing and doodling over typing better encourages students' critical thinking, creativity and retention. Here are some of our favorite articles explaining this concept:
Tip: want to save your work? Snap a picture on your phone or iPad and then email it to the class.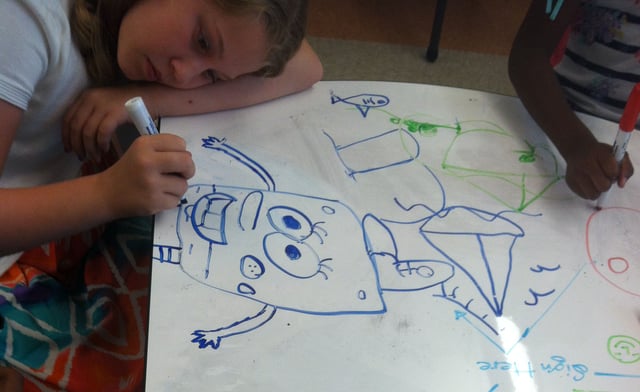 A world full of color: No longer are you stuck with just white markerboards. Coordinate your dry erase surfaces with the rest of your classroom design and color scheme when you take advantage of the myriad of markerboard colors now available. Check out these classroom layout ideas, which include markerboard surfaces in "Solutions for Learning Spaces."
Related Article: How to Effectively Create Student-Centered Learning Environments
Take the Next Step to Transform Your Learning Environments
Like using markerboard surfaces in your classroom, there are a lot of things you can do to transform learning in your school! For more helpful information and to gain tips for modernizing your learning environment, download our helpful eBook, "Rethinking Classroom Learning Environments for the Future."
---
SOURCES:
https://www.health.harvard.edu/blog/the-thinking-benefits-of-doodling-2016121510844
https://lifehacker.com/the-benefits-of-writing-by-hand-versus-typing-1778758792
http://www.formica.com/en/us/products/markerboard#product-supportTab
http://mentalfloss.com/article/33508/4-benefits-writing-hand